Acting and Empathy Workshop, San Francisco, June 2013
2013 / May 22
ACTING AND EMPATHY: INTENSIVE ACTING WORKSHOP
JUNE 12–19, 2013 | SAN FRANCISCO
Acting and Empathy
Acting is a transformational experience. It is the art of communicating stories but it is also the art of receiving the stories that others are trying to tell you. Quite simply, it is the art of empathy.
Those who acquire some of acting's basic skill sets can use them to become stronger leaders and more successful managers and negotiators. We have designed a week that will inspire actors and refine their skills. It will give other professionals invaluable insights into others and themselves.
Join us in San Francisco for what promises to be a rewarding acting workshop. This intensive session is created by award winning actress/playwright and highly skilled teacher Anna Deavere Smith.
She is joined by other instructors and thinkers who are at the top of their professions.
Participants do not need acting experience to benefit from the work. We encourage leaders of all kinds: teachers, corporate leaders, arts instructors, thinkers, those of the people professions as well as performers and artists from other disciplines to join us. We invite all generations to participate. We will be a cross generational, interdisciplinary group in pursuit of new ideas and new ways of using our innate talents to engage with others. The workshop will be a full engagement of mind, body and spirit. It promises to be a physical workout, a mind inspiration, an emotional banquet and a shower for your soul.
"(Anna Deavere Smith) is the ultimate impressionist. She does people's souls." —The New York Times
Acting and Empathy Intensive Workshop
Application Deadline: Due to popular request, Deadline now extended to Tuesday, May 28, 12:00 noon PST
Workshop Dates: June 12–19, 2013
Location: Yerba Buena Center for the Arts, 701 Mission Street, San Francisco, CA
For more details, visit the Workshop Description and the Apply pages.
---
"An Unlikely Community" an Interview with Lily Whitsitt
2012 / September 14
Lily Whitsitt is a theater director and interdisciplinary artist based in New York City. She worked with Anna Deavere Smith Works throughout 2011 and is currently, among other things, a facilitator for the nonprofit organization called Rehabilitation Through the Arts. She recently sat down with ADSWorks researcher and curatorial assistant, Ethan Philbrick, to discuss her most recent project with RTA—co-directing a production of Ma Rainey's Black Bottom by August Wilson at Fishkill Correctional Facility—and her thoughts about the role theater plays and might play within the US prison system.
Check out a NY1 piece on the RTA project at Fishkill here.
Ethan Philbrick: How did you come to work with Rehabilitation Through the Arts? What drew you to this organization particularly, and this sort of work more generally?
Lily Whitsitt: I learned about the organization from another theater director in New York I really respect, Arin Arbus. I came to RTA just after finishing graduate school [in directing at CalArts] and moving back to New York after being away for three years. I was hungry for a community to engage with, where I could apply my studies in a meaningful, personal and important exchange. Coming out of my MFA program, I felt I'd lost touch with that urgency. I knew that coming back to New York was an important next stage in my professional career, and I wanted to reconnect with the root of why I do what I do.
E: What draws you to do theater in the context of a prison? What do you think theater allows you to do and allows you to get at?
L: I'm always encouraged by Anna [Deavere Smith]'s belief that art is aspirational, not just inspirational. I became even more convinced of the transformative power of theater in a prison context. Working intensively with a group on a production for an extended period of time, particularly in this context, creates such a unique feeling of community, commitment, and responsibility for everyone involved. Last summer I was supposed to co-lead a workshop with Connie Grappo, the woman with whom I co-directed Ma Rainey's Black Bottom. At the last minute, our schedules didn't coincide, and RTA asked me if I wanted to lead my own workshop. I'd never worked in prisons and wasn't confident I had the skills the job deserved, but I said yes because I wanted the exchange. I was interested in creating a space where we could expand our imaginations beyond the confines of the environment. I developed a melodrama and physical theater workshop, focuing on scenes from Camino Real. We used the classroom where we met and the elements in the space to create the environment of the play: a plastic bag and electric fan became wind, a desk became a high stone wall, pieces of a large anatomical heart puzzle became a poetic image of Kilroy's death. Together we created an imaginative landscape. It was a transformative experience for me as an artist and human being.
There was one guy in particular who was in Ma Rainey. At first, it was a challenge for him to read aloud from a page in front of a group, for numerous reasons. Now he can come in a room, pick up a page of text he's never seen before, memorize it with ease, and perform in front of a group of 150 people, no problem. He's a leader. It was a meaningful journey – the confidence, power, control he discovered within himself. But these changes take time; it's an individual and group effort. It takes a commitment, week after week – everyone has to show up and support one another – and then slowly things shift, for everyone in the room. Theater is the tool for this change.
I think the reason why I'm so drawn to theater is that it allows for community—inside and outside prison—and I feel like at its best, it's an unlikely community. Theater allows you to find community in places you wouldn't expect; it demands presence and engagement. For me, theater has been a vehicle for community to happen.
---
Anna Deavere Smith and Ethan Philbrick on The Huffington Post
2012 / August 14
Words and Not Enough Words: When Words Don't Say Enough
Co-written by Anna Deavere Smith and Ethan Philbrick

There are words and not enough words about the outbursts of violence in Wisconsin and Colorado. We at Anna Deavere Smith Works are mindful that words can never tell the entire story. In fact, there are gag orders and other resistances to speech. And then there is political speech: the "haute couture" of language, that by its nature simply cannot, and should not, tell the whole story.
Continue reading on The Huffington Post

---
"Becoming Invisible in Public" an Interview with Nora Chipaumire
2012 / August 01
Photo credit: Antoine Tempe
Nora Chipaumire is at the forefront of contemporary dance. She is a 2008 New York Dance and Performance (aka "Bessie") Award winner for her choreographic work Chimurenga; and a 2007 New York Dance and Performance Award in the performance category for her work with Urban Bush Women where she also served as Associate Artistic Director. Nora studied dance formally and informally in her native Zimbabwe, Senegal, USA, Cuba, and Jamaica. She is a graduate of the University of Zimbabwe's School of Law and holds graduate degrees from Mills College of Oakland, CA in dance (MA) and choreography & performance (MFA). She is also a fellow at Anna Deavere Smith Works.
Ethan Philbrick (Anna Deavere Smith Works Curatorial Assistant) and Chipaumire recently sat down for a conversation about her work following her performance of The Last Heifer at Danspace in Manhattan. Check out the interview below:
Ethan Philbrick: I was thinking that we could start off with the artist statement that's on your website. Could I ask you to read it out loud?
Nora Chipaumire: Okay. Here goes…"My goal is to move people to action. My work is about people. The work is total propaganda, unapologetic agitations for human rights"—that's true—"my work is township. It is urban. It is now. It is not about that colonial, post-colonial, geo-political Africa. It is about the African people agitating for fair trade and not aid."
It's so interesting…the language is so within a time frame, you know…"revolution," "propaganda…"
In a way, it's….well, now I'm already talking…do you have a question?
E: No, no, no, keep going, keep going!
N: In a way, it seems that this language of revolution is such a reality for me. There's still this thing. Right? And it's still sort of real. And somehow, yeah, this language still rings true, although I'm also interested now in how…
---
"Curses and Prayers: On Language" by Anna Deavere Smith
2012 / July 31
Curses and Prayers: On Language

Originally Given by Anna Deavere Smith as the Bacclaurette Address at Williams College, May 2012

It's amazing to me that after all the words you have heard over the last four years, you are here for more. Seems like it's time for a party, not more words. But then, my sense is, you all like words. And it's my understanding that a baccalaureate is a time for yet a tad more wisdom before the big send off tomorrow.
I thank you for inviting me to partake in the richness of wisdom shared already from ancient wise men.
--Look to the rock from which we are hewn while pursing Justice
---Think about the things that are worthy of praise
--Support justice in all human endeavors regardless of the circumstance
---
Anna Deavere Smith on The Huffington Post
2012 / July 19
Grace, Love, Courage: On Art, Artists and Patronage by Anna Deavere Smith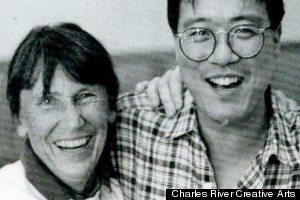 This past weekend, we memorialized Priscilla Dewey Houghton at her funeral in a packed Boston church. If the "Dewey" name rings a bell: yes, there is a relation to Dewey, as in the Dewey Decimal system. If the "Houghton" part of her name rings a bell: she was the wife of Congressman Amory (Amo) Houghton Jr. of Corning, New York. The Houghton and Dewey names have long been associated with support of education, the art, and other arenas of civic well-being.
Priscilla was a true patron of artists. Not just a patron of "the" arts, but of artists. There is a difference. Read the full article at Huffington Post.
---
Cynthia P. Schneider and Khaled Abol Naga on the Egyptian Elections
2012 / May 24
Photo Credit: daily cultural diplomacy
Photo Credit: gulf news
Cynthia P. Schneider (Former Ambassador and Distinguished Professor of the Practice of Diplomacy at Georgetown University) and Khaled Abol Naga (Egyptian actor, filmmaker, and activist) -- both fellows at Anna Deveare Smith Works -- have been collaboratively writing pieces analyzing the ongoing struggle in Egypt for CNN.com. Below is a note from Schneider followed by links to two of their most recent pieces on the violent repression surrounding Egypt's current elections.
****
As many of you know, today is the second day of voting in the historic Egyptian Presidential election. Sadly, many of the youth who led the Revolution that made this election possible will not be voting today because they are among the 12,000 political prisoners -- mostly protesters or bloggers/journalists who have criticized the military regime (SCAF) -- arrested and held in military detention since the Revolution.
---
"We had something to defend" an Interview with Hamé
2012 / April 13
Photo Credit: AFP/MARTIN BUREAU
Hamé (Mohamed Bourokba) is a member of the French rap group La Rumeur. Also a writer and filmmaker, Hamé has completed graduate work in film and literature from the Sorbonne, later receiving a scholarship to study film for a year at New York University's Tisch School of the Arts. Je ne suis pas le gardien de mon frère ('I am not my brother's keeper'), his first short film, received the support of CNC and French TV channel Arte, and addresses the subject of post-colonial immigration. His original film De L'encre, written with fellow La Rumeur member, Ekoué, premiered to critical acclaim on French television in 2011.
Earlier this spring, Ethan Philbrick (ADS Works curatorial assistant) and Hamé connected over email to talk about De L'encre, Hamé's upcoming projects, the Egyptian Revolution, and the challenges of the culture industry. This is the second piece in a series of interviews that will be conducted with current ADS Works fellows. Over the next few months, we will be posting these conversations in hopes of cultivating a more sustained dialogue about artistic excellence and social change.Check out the conversation below!
Ethan Philbrick: I've been reading a bit about De L'encre on the web. Can you talk about your inspiration for that project? How did you develop the character of Nejma? What sorts of social issues were you looking to address through the series?
Hamé: I wrote De L'encre (From Ink) with my friend Ekoué (with whom I founded La Rumeur in 1995, at age 18). When Canal+ asked us to propose an idea to them for a film dedicated to rap, we already knew that the film would be some sort of homage to underground Parisian hip-hop and its counter-culture. The counter-culture to which we, La Rumeur, have always been attached. So the film would depict a small, precarious and divided artistic community that is struggling with the question of money offered by the Industry.
---
"Roaming the world trying to find best friends" an interview with Zeb & Haniya
2012 / April 12
image: www.zebandhaniya.com
Zebunnisa Bangash and Haniya Aslam (Zeb and Haniya) are a singer/songwriter duo from Pakistan. Their music speaks to a shared base of human experience while innovatively evoking the rich and textured soundscapes of Pakistan, Afghanistan, and Central Asia. They are fellows here at Anna Deavere Smith Works and recently connected with ADS Works curatorial assistant, Ethan Philbrick, to chat about their upcoming projects, as well as the politics and potentiality of musical friendships.
This is the first in a series of interviews that will be conducted with current ADS Works fellows. Over the next few months, we will be posting these conversations in hopes of cultivating a more sustained dialogue about artistic excellence and social change. Stay tuned to this space and check back frequently!
***
Ethan Philbrick: I heard that you were recently in India collaborating with the popular Indian musicians Shantanu Moitra and Swanand Kirkire. Can you tell me more about this collaboration?
Haniya Aslam: Well, on this recent trip, we flew into Bombay and stayed in a place outside the city that was completely quiet and beautiful and we basically had a song-writing, composing, and lyric writing session. The four of us spent about 3 whole days together and we completed some tunes that each of us had come up with separately, wrote some tunes together, and then went down to Bombay and went into the studio and got some rough demos down.
---
Recent Publications from Fellow Cynthia Schneider
2012 / January 17
Cynthia Schneider, "Hard Power Trumps Soft in U.S. Policy Towards Egypt", December 23, 2011, Huffington Post
Cynthia Schneider with Khaled Abol Naga, "Egypt's Elections Can't be Trusted", November 29, 2011, CNN
Cynthia Schneider, "The Gospel of Sufism in Post-Revolutionary Egypt", September 16, 2011, Huffington Post
---
THIRTEEN's Great Performances Presents Anna Deavere Smith's Acclaimed "Let Me Down Easy"
2011 / December 15
Anna Deavere Smith's latest production, Let Me Down Easy, airs on THIRTEEN's Great Performances Friday, January 13th at 9 pm on PBS (check local listings).
Conceived, written and performed by Smith in her signature one-person performance style, the play examines the miracle of human resilience through the lens of our current national debate on health care.
Originally presented at Long Wharf Theatre, the play received its New York premiere at Second Stage Theatre. The Great Performances production was recorded in February 2011 in the Kreeger Theater at Arena Stage at the Mead Center for American Theater in Washington, DC, launching a national tour that concluded in September.
---
Anna Deavere Smith responds to death of Vaclav Havel
2011 / December 19
---
Bard College Appoints Fellow Gideon Lester to Faculty and Director of Theater Programs
2011 / December 17
image: Kevin Thomas Garcia
Bard College announces the appointment of performing arts curator, artistic director, and dramaturg Gideon Lester to the College faculty, naming him Director of Theater Programs and Professor of Theater. He will head the undergraduate theater program at Bard, where he will teach full time, and also curate the professional Fisher Center and SummerScape theater and dance offerings. Lester, whose appointment is effective fall 2012, will also serve as a dance and theater consultant for the Fisher Center this spring.
"We're delighted to welcome Gideon Lester," said Bard College President Leon Botstein. "He succeeds the esteemed and distinguished JoAnne Akalaitis, who is retiring after 14 years as the head of the Theater Department at Bard. Gideon Lester will not only take over her duties, but will also become a colleague crucial to the development of Bard's public offerings and graduate programs."
---
Huffington Post: "Gains and Losses" by Anna Deavere Smith
2011 / December 10
image: Diana Walker
In 2005, I went to Africa to do research for my latest one-woman show Let Me Down Easy. The play is about resilience and vulnerability: physical, spiritual, and political. The play pivots, in part, around issues to do with medical care. It is based on interviews that I then turn into a one woman show in which I portray several characters. To create Let Me Down Easy, I conducted over 300 interviews on three continents.
In the current production, I portray 20 people, the majority of whom are American. However, when I conducted my research, I was concerned by images I saw of Black African people in distress in major U.S. publications. Were these photos engendering action, or merely pity or worst apathy? I thought I would go to see for myself: How dire were the situations? Was there more than the camera captured? Read the full article at Huffington Post.
---